Lippincott Nursing Procedures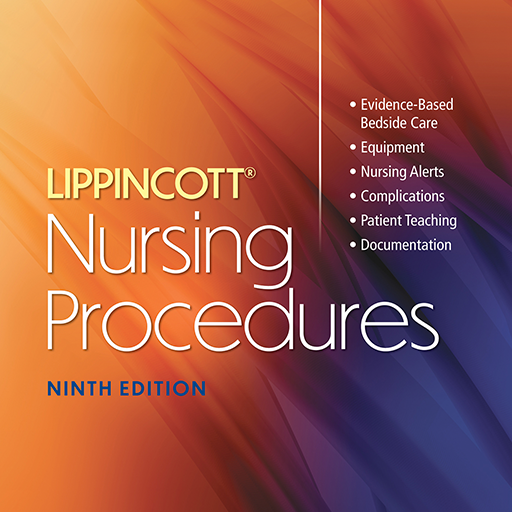 Author(s)/Editor(s):

Content licensed from:
Wolters Kluwer Health | Lippincott Williams & Wilkins
License agreement
Content Version: 25.0.0 - 08/22/2022
Contact us
DISCLAIMER
NOTICE. The Product (including constituent Titles) is intended to serve you as a concise initial reference resource and not as a complete reference resource. The Product does not include information concerning every therapeutic agent, laboratory or diagnostic test or procedure available. The Product is clinically oriented and is intended to be used only by those who are: (A) researchers who will not use the information for medical diagnosis or treatment, or (B) physicians and other competent healthcare professionals who will rely on their own discretion, experience, training, and judgment in medical diagnosis and treatment. The database, tools and information provided via the Product ("Clinical Information") covers commonly used medical reference information and is specially designed to present certain important aspects of clinical information in a more concise format than is generally found in medical literature or product material supplied by manufacturers. Because clinical information is constantly evolving due to ongoing research and clinical experience, and because clinical information is often subject to interpretation and subjective application, skyscape (and all authors, editors, reviewers, contributors, publishers, and licensors of the clinical information) (A) is not responsible for the continued currency or completeness or accuracy of the clinical information or for any errors, omissions, or the application of the clinical information, or for any consequences arising therefrom; and (B) make no representations or warranties as to if or how quickly any changes or updates to the clinical information will be affected. Because of the dynamic nature of clinical information, you are cautioned that all decisions must be based on the independent discretion, experience, and judgment of the clinician, changing information about a drug (e.g., as reflected in the literature and manufacturer's most current product information), and changing medical practices. Skyscape is not responsible for any inaccuracy of quotation or for any false or misleading implication that may arise due to the text of formulas as used or due to the quotation of revisions no longer official. You are advised to carefully consult the instruction and information materials included with the packaging of each drug or therapeutic agent before administration. In addition, in view of ongoing research, changes in government regulations, and the constant flow of information relating to drug therapy and drug reactions, you must check the manufacturer's package insert and regulatory updates for each drug, for any changes in indications and dosage and for added warnings and precautions.
DISCLAIMER. Any use by you of the product, title(s) and clinical information is at your own risk. The product and clinical information is not error-free and is being provided "as is" without warranty of any kind. Skyscape (and its suppliers and licensors) expressly disclaims, any other representation or warranty of any kind, express or implied, oral or written, including without limitation any implied warranties of title or non-infringement, merchantability, fitness for a particular purpose, accuracy, integration, non-interruption, validity, exclusivity, non-interference with enjoyment, and all warranties implied from any course of dealing or usage of trade. Further, you agree to use the product as an educational aid and not to prescribe, diagnose or treat a condition or as a substitute for or to override the exercise of professional judgement by a healthcare professional. In view of the possibility of human error or changes in medical science, you should confirm the information in the product through independent sources.